---
Upcoming Events
No Scheduled Events At This Time
---
Previous Events With Participation by KJH Financial Services
Kiplinger and NAPFA team up for Live Advice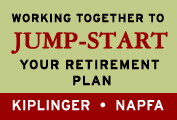 Friday January 22, 2010 and Tuesday January 26, 2010
Tuesday January 13, 2009 and Friday January 30, 2009
Tuesday, January 15, 2008 and Friday, January 25, 2008
Friday, August 17, 2007 and Thursday, August 30, 2007
---

THE MONEY CONFERENCE
November 14,2009
The Sheraton Boston Hotel
39 Dalton Street Boston, Massachusetts 02199
THE MONEY CONFERENCE FOR WOMEN
April 19, 2008
Western New England College
Springfield, MA
THE MONEY CONFERENCE FOR WOMEN
October 27, 2007
Worcester, MA
The DCU Center
---
Kimberly Howard will be participating on "Money Matters with Scottie McCall Afternoon Edition" at 3 pm on Monday, August 31.
The show will be broadcast through WBNW AM 1120, WESO 970 and WPLM AM 1390. The radio signal can be best heard in
counties where the towers are located (Concord –WBNW, Plymouth-WPLM, Southbridge-WESO), which includes Middlesex County,
Worcester County, Suffolk County, Plymouth County and Barnstable County.

For live audio and video stream, visit moneymattersradio.net.
---
May 20, 2009 'Your Money Bus' comes to Boston

---
Budgeting Seminars
Sturdy Memorial Hospital -- November 19, 2008
Town of Framingham -- September 24, 2008
---

This FREE clinic is a great way to talk to financial planners -- one-on-one. Visit the CFP site to get more information.
---
Focus on Fiduciary
Tuesday May 22, 2007
Held at home office in Needham
Focus on Fiduciary Presentation
---
Tuesday February 27, 2007
"Taxes Made Easier"
Income Tax Updates for 2006 Returns
Needham Public Library
---